About Us

In 1997, Dr. Williams identified a need in the oceanographic community for a small, affordable, easy-to-use current sensor that can measure currents and turbulence. By keeping the cost down and the size small, it was predicted that arrays of current sensors could be deployed to measure flow fields, improving on previously used time series of currents at one or two points. Such an array would be of great benefit to the measurement and understanding of organized structures, such as Langmuir cells.

In order to meet the aforementioned objective, NOBSKA Development Corporation, formed and developed a Modular Acoustic Velocity Sensor (MAVS), a three-axis current meter that measures differential-acoustic-travel-time in a small measure volume. It is a derivative of the Benthic Acoustic Stress Sensor (BASS) with the following requirements: low cost, small size, high accuracy, good cosine response to current direction (immunity to off axis flow and gain independent of attitude), lack of bias in a wave environment (no wave rectification), ability to measure turbulence and the Reynolds stress (the turbulent transfer of momentum), resistance to fouling (helped by no moving parts), ability to measure near a boundary, and accuracy at low current speeds (linear response through zero flow).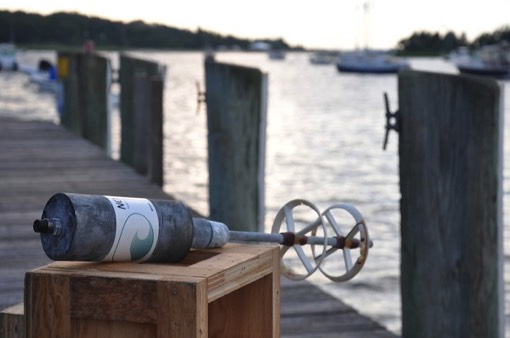 MAVS Current Meter was developed to be smaller, cheaper, but just as precise as BASS. The purpose of this development had been to continue the study of benthic storms begun in HEBBLE but extended upstream where the erosion of sediment observed at the HEBBLE site might have originated. In this effort, the cost needed to be reduced so that large numbers of sensors could be deployed at moderate expense. While the benthic weather experiment was never funded, the National Science Foundation did support the MAVS development with the result that a new sensor for flow studies became available at a cost low enough to include the measurement of flow as an ancillary observation. In fact, the modular term in its name referred to the anticipation that it would be plugged into a benthic lander or other oceanographic system, something that has only begun to be so used recently.

With the development of MAVS and subsequent improvements and adaptations,
NOBSKA
continues to deliver on its original mission, providing end-users access to current sensor technology in an affordable, easy-to-use form.